Advanced Tuning Products, Inc. (ATP Turbo) is a company dedicated solely to turbocharging. Our goal is to engineer and manufacture turbocharging components that make sense. While turbocharging itself is not new, many of the components that we create are fresh ideas that come from applying the basic principles of process improvement and re-engineering to turbocharging systems. Adhering to these principles have helped us to design and re-design components for turbocharging, which are simplified, but function better and are more reliable.
Our processes rely on the latest equipment and tools to build you the best products in a timely manner! By incorporating the latest in high precision equipment such as our 4-axis Haas CNC milling stations and lathes, we are able to switch from prototypes to high speed production in very little time.
Our turbocharging components compliment the best turbochargers in the industry. Garrett Engine Boosting Systems is synonymous with turbocharging technology. Garrett/Honeywell turbo units provide the foundation for our turbocharging applications. A large supplier to both the OEM and aftermarket sectors, Garrett/Honeywell turbochargers have a reputation for unsurpassed performance and reliability. We are proud to be one of the major distributors of Garrett Turbocharging products.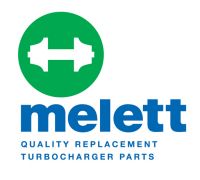 CR Turbo Engineering is proud to supply Melett quality replacement turbocharger parts.
Melett, a British company, operates a Quality Management System which complies with the requirements of ISO 9001:2008 for the design, manufacture and supply of replacement turbo parts and repair kits to the independent aftermarket.
With a growing range of over 2450 turbo part numbers and a UK based in-house CHRA production facility, producing replacement CHRA covering over 900 turbo references, Melett combines innovative product development with the ability to deliver consistent manufacturing to exacting specifications.
Twice winners of the UK's prestigious 'Queen's Award for Enterprise' in 2006 and 2009, Melett supplies replacement turbocharger components, originally manufactured by Garrett, Holset (Cummins Turbo Technologies), Borg Warner (Schwitzer & 3K), MHI (Mitsubishi), Komatsu, Toyota, IHI & Hitachi, in over 100 countries worldwide.